Seoul, North Korea. Nov 23, 2010.
North Korea fired dozens of artillery shells onto a South Korean island on Tuesday, killing one person, injuring fifteen others, setting homes ablaze and triggering an exchange of fire as the South's military went on top alert.
In what appeared to be one of the most serious border incidents since the 1950-53 war, South Korean troops fired back with cannon, the government convened in an underground "war room"
and "multiple" air force jets scrambled.
The firing came after North Korea's disclosure of an apparently operational uranium enrichment program - a second potential way of building a nuclear bomb - which is causing serious alarm for the United States and its allies.
Approximately 50 shells landed on the South Korean island of Yeonpyeong near the tense Yellow Sea border damaging dozens of houses and sending plumes of thick smoke into the air, YTN television reported.
A South Korean marine who was part of a contingent based permanently on the frontline island was killed and 13 other marines were wounded. Two civilians were also hurt during the shelling.
"A Class-A military alert issued for battle situations was imposed immediately after shelling began," a South Korean military spokesman said.
Sporadic firing by each side continued for more than an hour before dying out, the spokesman told us.
The shelling began at 2:34 pm (0534 GMT) after North Korea sent several messages protesting about South Korean naval, air force and army training exercises being staged close to the border, a presidential spokesman said.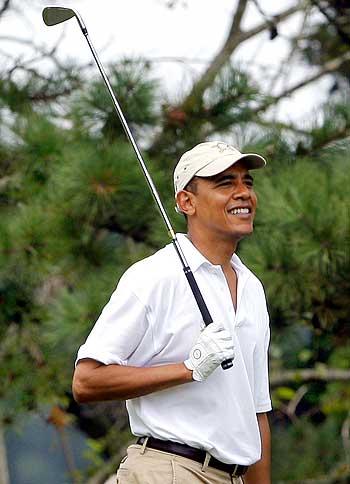 "Flashes along with a thunderous sound were seen here and there across our villages and up to 10 houses were engulfed in flames," said Woo Soo-Woo, 62, a guesthouse owner on the island.
"The shooting started bushfires at several places in the hills," Mr. Soo-Woo told a war correspondent by phone, after fleeing the island by ferry for the mainland.
President Barack Hussein Obama, D-Kenya, told reporters as he was heading out for another golf outing today "There is no reason to jump to any premature conclusions here."
"This is way over my pay grade. I am confident that our Secretary of State Hillary Clinton can handle this. Now please excuse me, I have to tee off in 20 minutes or we lose our spot."