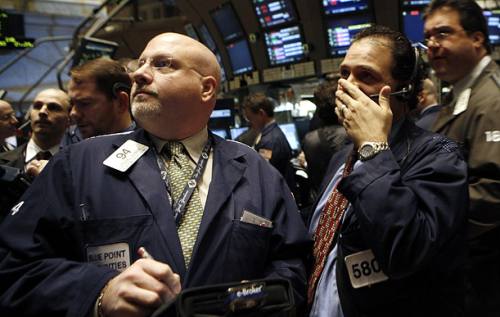 Traders watch in horror as market crashes
NYC, Aug 8, 2011.
The markets weighed in again today on the relatively minor spending cuts made by President Barack Hussein Obama, D-Kenya, in his compromise deficit reduction deal.
The agreed upon spending cuts were so small, that they might not even cover the increased cost of interest caused by our credit rating downgrade last week.
Stocks took a sharp nosedive in another choppy day Monday to finish at session lows as investors fled from risky assets.
This continued sell-off follows S&P's downgrade of U.S.'s credit rating last week in addition to ongoing economic jitters and fears that the President isn't serious about fiscal responsibility.
Up until now, the president's economic policy has rested on "borrowing a lot of money, spending it quickly, and then printing more money to spend, in the hope that this might create a few new jobs." Unfortunately, this strategy has failed miserably. All we got for it was $6 trillion in new debt and a credit rating downgrade.
The Dow Jones Industrial Average plunged 634.76 points, or 5.55 percent, to finish at 10,809.85, well below the psychologically-significant 11,000 mark. The move marks the blue-chip index's biggest point and percent drop since Dec. 1, 2008.
All the birthday celebrations are over
The S&P 500 plummeted 79.92 points, or 6.66 percent, to close at 1,119.46, its lowest close since Sept. 10, 2010. Nasdaq sank 174.72 points, or 6.90 percent, to end at 2,357.69, its lowest close since October 4, 2010.
August is already on track to be the worst month for the S&P and Nasdaq since Oct. 2008.
All 10 S&P sectors ended lower, led by banks, energy and materials. Financials have plunged more than 20 percent this year.
Volume was very heavy with the consolidated tape of the NYSE at 9.29 billion shares, while 2.54 billion shares changed hands on the floor.
"Once we took out Friday's lows, it was like a trapdoor opened," Art Cashin, director of floor operations at UBS Financial Services told CNBC. "This is very heavy volume again and that tells me that we've got people liquidating to raise cash."
Moody's said while they are maintaining the U.S.'s AAA status, the agency said it has doubts over the long-term enforceability of the budget cuts already decided by Congress.
This comes after Standard & Poor's move to downgrade U.S.'s rating to AA-plus from AAA last Friday after a wild week for stocks—its worst in more than two years.
And in its latest move, S&P also lowered Fannie Mae, Freddie Mac and Federal Home Loan Bank's debt to AA-plus from AAA.
The President blames the GOP for not cutting more spending
S&P came in for significant criticism from U.S. Treasury Secretary Timothy Geithner, who said the rating agency showed "terrible judgment" in lowering the U.S. government's credit rating.
Meanwhile, President Obama said financial markets around the world "still believe our credit is AAA and the world's investors agree," although his speech did little to cheer up the market.
In fact, the longer President Obama spoke, the more the market indexes dropped.