Down 22% since the start of his term
Washington DC, Aug 14, 2011.
President Barack Hussein Obama, D-Kenya, has reached his all-time low approval rating.
The latest Gallup poll has him sinking below 40% for the first time in his term in office.
New data posted Sunday shows that 39% of Americans approve of Obama's job performance, while 54% disapprove. The other 7% is undecided. These are the worst numbers of his presidency.
Obama's approval rating has hovered in the 40% range for much of 2011, peaking at 53% in the weeks following the death of Osama bin Laden.
But Americans' view of his job performance continued to tick downward as the debt-ceiling debate heated up. By the time he signed legislation averting a federal default, he was mired in the low-40% range.
The polling setback comes as the Republican race to unseat him has kicked into overdrive. The past week has been dominated by the activity in Iowa ahead of the Ames Straw Poll, and the entrance of a new contender in Texas Gov. Rick Perry. The candidates have routinely assailed Obama's leadership in appealing to conservative activists who dominate this stage of the nominating contest.
Obama is set to launch something of a counter-offensive on Monday with a three-day bus tour of the Midwest, a trip that includes two stops in Iowa. The White House denied that the itinerary was politically motivated, however.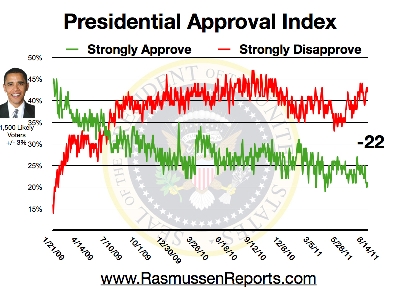 The three-day tracking poll was conducted from Aug. 11-13.
In a recent Rassmusen Poll 77% of voters say the country is heading down the wrong track.
Most Republicans (88%) and voters not affiliated with either political party (82%) believe the country is heading down the wrong track. Even a majority (63%) of Democrats now say the country is heading in the wrong direction.