President Obama burned in effigy in Pakistan
Washington DC, Nov 29, 2011.
President Barack Hussein Obama, D-Kenya, promised to restore the international image of the United States, but the recent NATO airstrike that killed 24 Pakistani soldiers comes as a huge setback, at least in Pakistan, to judge from remarks made by Army Gen. Martin. E. Dempsey to British media today.
Dempsey, chairman of President Obama's Joint Chiefs of Staff, said that the average Pakistani's respect for the United States is lower than ever. And it is important to remember that Pakistan is a vital ally of the USA in the this region.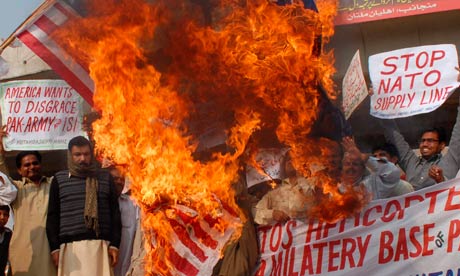 According to General Dempsey: "[The average Pakistani who] doesn't know the United States, doesn't read about the United States or just watches something on television about the United States, at that level, [the relations] are probably the worst they've ever been," he explained.
He added that the relationship between the U.S. government and Pakistan's government is "on about as rocky a road as I've seen."
Ever since NATO's strike against the Pakistani outpost near the Afghani border last Saturday killing 24 Pakistani soldiers tensions have been high in Pakistan. There have been violent demonstrations, riots, and public denounciations of President Obama and the USA.
Pakistan Army spokesman Maj. Gen. Athar Abbas said the NATO attack at two border outposts lasted for almost two hours and Pakistani Army requests to NATO to end the attack were ignored. Abbas rejected Afghan claims Pakistani soldiers fired first, saying NATO and Afghanistan knew the exact outpost locations and that the area had recently been cleared of militants.
Pakistan retaliated by ordering the CIA to vacate Shamsi Air Base in western Pakistan, where it launches predator drones.
It also closed NATO's two main supply routes into Afghanistan. NATO receives 40 percent of its supplies through the crossings, which run through the Khyber Pass. Pakistan would not say how long the routes would be shut down
General Dempsey expressed limited optimism for rebuilding that relationship. "I think if we understand the seriousness with which this event is being viewed in Pakistan, and they understand we are taking it seriously, then I think we will have at least the beginnings of a opportunity to find our way through it," he suggested.