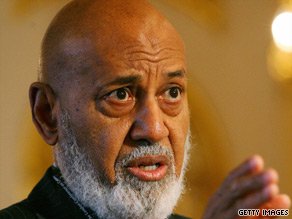 Washington DC. Jun 26, 2011
. Alcee Hastins, D-FL, has been charged with sexually harassing a member of his staff.
This is the same Alcee Hastings who was previously a Federal Judge, and who was impeached and removed from the bench for bribe taking, After that, he ran for Congress an won in a heavily black district.
In 1979 Hastings was selected by President Jimmy Carter to fill a vacant seat on the U.S. District Court for the Southern District of Florida.
In 1981, Hastings was charged with accepting a $150,000 bribe in exchange for a lenient sentence and a return of seized assets for 21 counts of racketeering by Frank and Thomas Romano, and of perjury in his testimony about the case.
He was acquitted by a jury due to lack of evidence, when his co-conspirator,
William
Borders, refused to testify in court. Borders received a prison sentence for refusing to testify.
Jimmy Carter appointed Hastings. Bill Clinton pardoned him.
In 1988, the Democratic-controlled U.S. House of Representatives took up the case, and Hastings was impeached for bribery and perjury by a vote of 413-3.
He was then convicted in 1989 by the United States Senate, becoming the sixth federal judge in the history of the United States to be removed from office by the Senate.
Democrat Hastings wanted to get back in to the bribe game, so he ran for Congress in 1992 for a seat representing the heavily black Florida 23rd Congressional District. He was easily elected, and has been reelected four more times by his constituents.
Later, on his last day in office President Bill Clinton, D-AR, issued a full pardon for the convicted corrupt former Federal judge.
Hastings latest ethics problems involve a charge of sexual harassment by Winsome Packer,one of his staff members, and is currently being investigated by the House Ethics Committee.
Winsome Packer
Ms.Packer alleges that Hastings made repeated unwanted sexual advances and threatened her job when she refused him.
This latest ethics charge just adds to the long list of ethical problems members of the Congressional Black Caucus have had. There are currently 41 members of congress in the Caucus and they are all Democrats.
Most Black Republicans have refused to join the Black Congressional Caucus, based on the highly partisan nature of the group, despite it's bylaws requiring the group to be "non-partisan." The Black Caucus effectively operates as the activist race baiting squad squad of the Democrat Party.
Of the current members, many have had ethics problems themselves.
Sanford Bishop, D-GA
, gave
scholarships
from the Congressional Black Caucus to ineligible persons, including his stepdaughter, and his niece. Eventually Bishop agreed to repay
the scholarship
fund for any awards he made in violation of the rules.
Corrine Brown, D-FL
, received a questionable $10,000 check from National Baptist Convention leader, and long-time associate, Henry Lyons. Brown confirmed receiving the money but denied she had used the money improperly.
Yvette Clarke, D-NY,
was caught lying about her educational background. Clarke eventually revealed that her prior claims to have graduated from Oberlin College were false. Her campaign website for the made the statement that she was an alumna and that was repeated in her campaign biography.
William Lacy Clay Jr, D-MO,
made improper campaign payments to lobbyists, including his sister Michelle Clay. In 2006 she received $51,800 in consulting fees from her brother's campaign funds, along with an additional $9,963 for reimbursements. In the 2004, Michelle Clay's firm received $52,514 for consulting, and in 2002 Michelle Clay herself was paid $32,00 for campaign management and legal fees.
Jesse Jackson Jr, D-IL.
Jackson was one of the people who tried to buy President Obama's vacated Senate seat from Governor Blagojevich. In 2009, Jackson was listed as one of the 15 most corrupt members of Congress by the liberal Citizens for Responsibility and Ethics in Washington for his role in the scandal.
Are they all crooks? Or just most of them?
John Conyers, D-MI,
used his staff workers as personal servants. Two former aides of alleged that Conyers used his staff to work on several local and state campaigns, and forced them to baby-sit and chauffeur his children.
In late December 2006, Conyers "accepted responsibility" for violating House rules.
In June 1969 Conyers' wife, Monica pled guilty to conspiring to commit bribery.
In March 2010 she was sentenced to 37 months imprisonment, followed by two years supervised probation.
Keith Ellison, D-MN,
the first Moslem elected to Congress, has had many ethical problems. He has been reprimanded for unreported contributions, discrepancies in cash balances, and misclassified disbursements. Ellison also failed to pay all or part of his income taxes in five separate years between 1992 and 2000, forcing the state and IRS to put liens on his home.
Eddie Bernice Johnson, D-TX.
Johnson violated Congressional Black Caucus anti-nepotism rules and awarded scholarship money to four of her relatives and two children of one of her top aide's.
Gregory Meeks, D-NY
. Greg Meeks has been investigated by a House ethics committee on loans with New York State Temporary President Malcolm Smith and the local Jamaica Rev. Floyd Flake. Meeks has also been investigated about his
mortgage loans
to a Guyanese immigrated real estate tycoon.
Gwen Moore, D-WI.
Moore's son was arrested in connection with the November 2, 2004, (election day), tire-slashing of Republican party vehicles in Milwaukee; he was charged with a felony in connection with the event on January 24, 2005, but agreed, on January 20, 2006, to plead no contest in exchange for a sentencing recommendation of restitution and probation.
Charlles Rangel, D-NY.
Rangel was censured by the House for multiple ethics infractions, including accepting illegal payments and non payment of taxes. He is one of the most corrupt politicians in the history of our Congress.
Bobby Rush, D-IL. A former Black Panther, and militant activist, Rush was arrested, convicted, and served prison time for possession of illegal drugs and weapons prior to being elected to the House.
Edolphus Towns, D-NY.
In 1992, Towns was named in the House banking scandal, having written 408 checks on an overdrawn bank account.
Maxine Waters, D-CA.
Waters' relatives made more than $1 million during by doing business with companies, candidates and causes that Waters had helped. Her husband helped a company get government bond business, and her daughter Karen Waters and son Edward Waters have profited from her connections. Waters replied that "They do their business and I do mine."