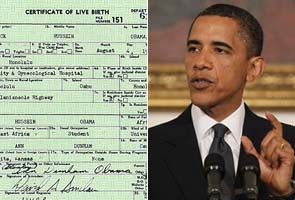 Washington DC. Apr 27, 2011.
President Barack Hussein Obama, D-Kenya, dropped a bombshell today by finally released his original long form birth certificate, saying the controversy surrounding the issue had become a "sideshow."
Obama's birth certificate
"We do not have time for this kind of silliness. We've got better stuff to do," said Obama.
The surprise release follows recent and sustained remarks by businessman Donald Trump, among others, that raised doubts as to whether the president was born in the United States.
"Over the last two and half years, I have watched with amusement. I have been puzzled with the degree with which this thing just kept going," Obama told reporters Wednesday.
Responding to the development, Trump said, "I have accomplished something nobody else has accomplished."
"I want to look at it, but I hope it's true," he told reporters in New Hampshire. "He should have done it a long time ago. I am really honored to have played such a big role in hopefully getting rid of this issue."
Assuming this document is genuine, then the real question becomes "Why did he wait three years to release it? Exactly what was we trying to hide? "
Trump now wants to see Obama's college records, which have also been hidden. "The word is, according to what I've read, that he was a terrible student when he went to Occidental," Trump said.
"He then gets to Columbia; he then gets to Harvard. … How do you get into Harvard if you're not a good student? Now, maybe that's right, or maybe it's wrong. But I don't know why he doesn't release his records."