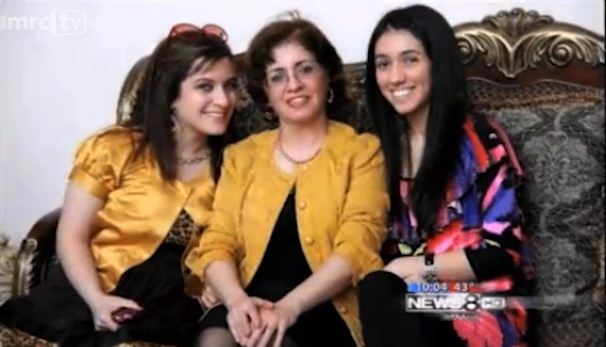 His wife (center) with cousin and daughter (right)
Grapevine TX, Jan 1, 2012.
A Muslim father dressed as Santa Claus arrived to his family's Christmas party with two guns, executed his entire family and then killed himself, and planned the entire thing, police said Tuesday.
Aziz Yazdanpanah, an Iranian Muslim, didn't like his daughter's non-Muslim boyfriend and was exhibiting stalker behavior.
"She couldn't date at all until she was a certain age, but when he was going to let her date she couldn't date anyone outside of their race or religion."
Again and again we have seen honor killings in which fathers kill daughters who are dating non-Muslims or have supposedly besmirched the family honor by some sexual indiscretion. Lt. Todd Dearing says that motive isn't important, which is generally only the case when Islam is involved.
Police believe the Christmas Day massacre in which left seven people were murdered, while still surrounded by Christmas presents and wrapping paper, was premeditated, Police Sgt. Robert Eberling said.
Police confirm what family friends said Monday, that Azizolah "Bob" Yazdanpanah, 56, fired the fatal shots in the murder-suicide. Grapevine police identified the victims as his wife, Fatemah "Nasrin" Rahmati, 55; their daughter, Nargis "Nona" Yazdanpanah, 19; and their son, Ali Yazdanpanah, 14. Nasrin's sister, Zohreh Rahmati, 58; her husband, Mohamad Hossein Zarei, 59; and their daughter, Sahra Fatemah Zarei, 22; were also killed, police confirmed.
The killer and his six victims
Police received a 911 call from an apartment in the 2500 block of Hall Johnson Road on Christmas morning. When officers arrived, they found the door locked from the inside, and the worst crime in Grapevine history.
Police recovered two weapons on the scene -- a Smith and Wesson 915 model 9 mm pistol with a 15-round magazine, and a Glock 23 .40-caliber pistol with a 10-round clip, according to Eberling.
Both guns were used in the murder-suicide, but Eberling would not say how many shots were fired; only saying that there were still bullets in both guns.
Last year, a bank foreclosed on Bob Yazdanpanah's house, and he separated from his wife in the March. Police had previously said a text message prior to the shooting indicated Bob Yazdanpanah was probably invited to the party, but police on Tuesday afternoon changed their story. Police now say Bob Yazdanpanah apparently was not invited.
At 11:16 a.m., one of the victims sent a text message to a friend indicating who was at the gathering at the apartment. The text message mentioned the gunman's name and that he was dressed as Santa. Police said there was no indication of fear or concern in the text. Eighteen minutes later, someone placed a call to 911 from a landline inside the apartment. Investigators could make out a muffled cry for help in the background, Eberling said.
All of the victims were found in the same room with no sign of a struggle, according to Eberling, but he said some of the victims had defensive wounds that indicate they tried to shield themselves from the bullets.