President surrounded by his former SS bodyguards
Washington DC, Feb 1, 2012.
In a startling and completely unexpected move, the Secret Service team assigned to protect President Barack Hussein Obama, D-Kenya, walked off the job last night and headed to the home of Mitt and Ann Romney to begin protecting them.
This bizarre event happened at precisely 8:05 PM EST last night, when all the major television networks called the Florida Primary race for Republican frontrunner and likely next President Mitt Romney, R-MA.
The Secret Service team felt like they were needed to protect the next President and made this move on their own without actually receiving any orders to do so.
Secret Service Director Henry Wilkerson said in response to the news... "The action taken by this rouge team of Secret Service agents is against all of the rules and will not be tolerated. They should have waited until Obama officially loses the election in November. They really jumped the gun on this."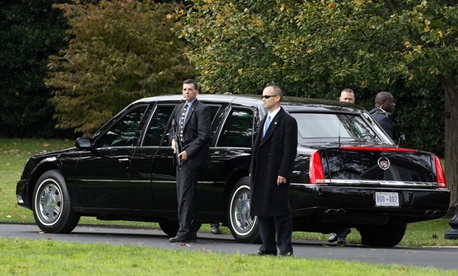 SS Team dutifully waiting at Romney's Belmont MA home
"I realize they probably thought they were doing what was best for the nation, but we will recall that team and replace them with another one. And they will be reprimanded for this. It will go in their permanent records."
Wilkerson went on to say that a new team of SS agents would be assigned to protect Mitt Romney, but the current team assigned to Barack Obama would be replaced due to their "obvious disloyalty."