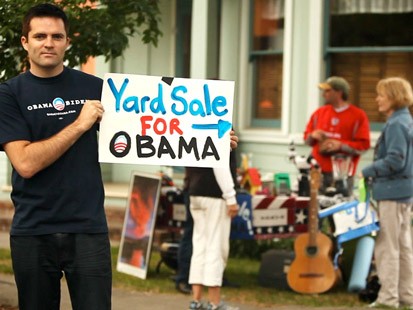 Washington DC, Sep 16, 2012
. As President Barack Hussein Obama's corporate sponsors see his poll numbers sliding, many are holding back on their financial support for the President's reelection campaign.
Their money is either sitting on the sidelines or shifting to the probable winner of November's election, Republican challenger Mitt Romney.
The Obama Reelection Campaign has a new strategy for dealing with the erosion of financial support.
They have scheduled a new fundraising effort called the
National Yard Sale for Obama
, and have it scheduled for next weekend. Additional innovative fundraisers may be scheduled if the President's foreign policy failures continue, and if our economy continues to lose jobs.
Previous fundraising initiatives have included the
Obama gift registry
along with "
skip a meal
and send us the money instead." If you want four more years of inept leadership, then you should set up your own yard sale to help raise money for the President's reelection campaign. If you'd rather have a change in leadership, then you know what to do.
Here's more on the new fundraising technique: